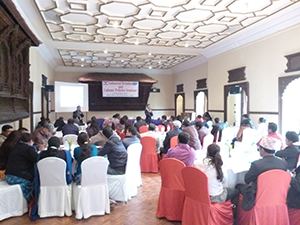 Contributing to economic and trade union development in developing countries by holding seminars on the building of sound labour-management relations, etc.
JILAF gauges the needs of trade unions in developing countries and organizes local seminars in accordance with the surrounding environment and in response to those needs, thereby contributing to economic and social development and workers' education.
Organization and protection of the rights of workers
Toward improving the lives of workers in developing countries, participants study the knowledge and practical skills required to promote the organization of trade unions and protection of the rights of workers.
Collective bargaining and labour-management consultations
Based on a large number of case studies, participants share knowledge relating to the characteristics of and differences between collective bargaining and labour-management consultations and, through mock collective bargaining, study the knowledge and practice required for forging constructive labour-management relations.
Labour legislation, minimum wages, and collective bargaining agreements
The seminar provides basic knowledge relating to labour legislation, working conditions, and minimum wages, as well as practical training in the conclusion and improvement of collective bargaining agreements.
Labour-management dispute settlement
Toward the prevention and resolution of labour-management disputes, which occur frequently in developing countries, this seminar provides knowledge concerning the types and characteristics of disputes based on many case studies, and participants study how to build sound labour-management relations.
Gender equality
The seminar provides knowledge and case studies of how to enhance the social status of women in developing countries, improve their lives and working conditions, and promote gender equality in the workplace and society.