JILAF Training Program for Junior Trade Union Leaders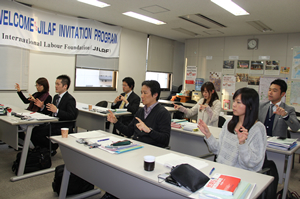 In cooperation with RENGO, JILAF organizes a Training Course with the aim of developing human Resources that can be active on the international stage in the field of labour. The course, which lasts for seven months and consists of English language study and labour-related lectures, enables trainees to acquire the basic knowledge and experience necessary for the international labour movement. So far 147 junior trade union leaders have participated in the course.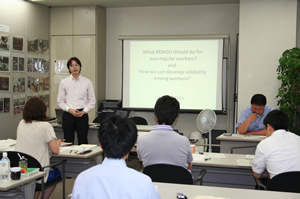 English Training
This training aims to develop English language skills so that participants can explain about the Japanese labour movement, unions, and labour management relations to foreign union activists and hold discussions with them. The "entry course" developing basic English skills was introduced in FY 2006.
Visits to RENGO and GUF
Participants visit RENGO and the Global Union Federations (GUFs) Japan Office/ Japan Coordinating Council to hear about the activities of each organization and firsthand experiences from people active on the international stage.
Young Leadership Course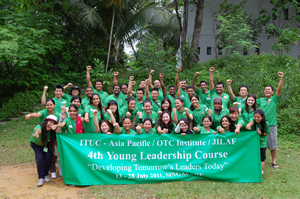 Young Leadership Course for young union leaders from countries in the Asia-Pacific region are being held in Singapore Organized ITUC-AP and the Ong Teng Cheong Labour Leadership Institute (OTC Institute), the course offers studies on the international labour movement, decent work, the qualities of trade union workers, and other topics through group work and field work. JILAF extends financial support to the course also dispatches instructors to the course to lecture on labour management relations in Japan and other topics.