event date: August 22, 2022
~
September 9, 2022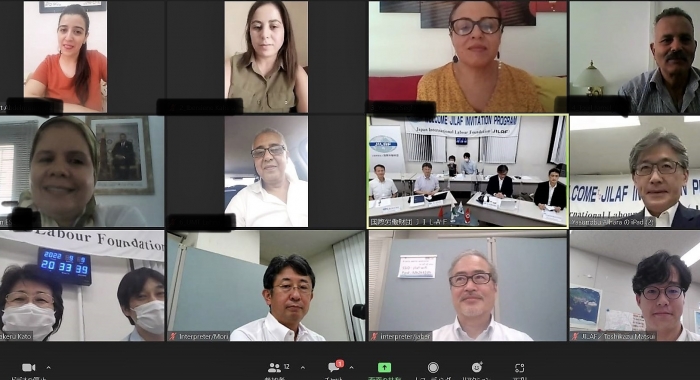 An online program was held for the English-speaking unit from August 22 to August 26, and for the Arabic-speaking unit from September 5 to September 9.
The entire program was completed by eight participants (including three women) from Ghana, Kenya, Nigeria and South Africa from August 22 to August 26, and by six participants (including four women) from Algeria, Tunisia and Morocco from September 5 to September 9. In total, the team consisted of fourteen participants (including seven women) from seven countries.
Despite the very large time differences within the team, the participants actively asked questions during the information gathering session on the labor situation in each country. In the English-speaking unit of the team, there was one participant in their 20s, four in their 30s, two in their 40s, and one in their 50s. Also, with five having two to seven years of experience and three having fifteen to sixteen years of experience with trade unions, the unit had many participants with relatively few years of experience. On the other hand, in the Arabic-speaking unit, there were two participants in their 30s and four in their 50s. With those in their 30s having one to four years of experience and those in their 50s having twelve to thirty five years of experience with trade unions, the unit had many participants that were very well-experienced.
The participants mainly proposed the following action plans.
(1) If funds can be secured, we would like to start an educational program on the topic of "Constructive Negotiations in Industry: Case of Japan" by the end of December 2022. (Ghana)
(2) Within three months, we will propose to the leaders of COTU(K) institutional and structural reforms that are more sustainable and responsive to emerging issues. In addition, we will also put more efforts into training and education on productivity and high quality work environments. (Kenya)
(3) We will work to include unemployed people in union activities. We will also exchange opinions with unions in various countries to achieve labor-management negotiations that meet the demands of workers. (Algeria)
(4) We will raise young people's awareness of the importance of trade union activities. We will also step up our efforts to involve women in union activities and to take responsibility for unions and the government. Furthermore, we will deliver social coverage for university students and resolve unresolved contracts between labor and management. (Tunisia)
(5) We were impressed by the existence of labor banks, and would therefore like to work towards establishing labor banks in our country. We would also like to build a digital platform that integrates all of the world's labor problems. (Morocco)
List of Cooperating Organizations
| | | |
| --- | --- | --- |
| Ministry of Health, Labour and Welfare | JTUC-RENGO | Keidanren |
| Japan Productivity Center | National Association of Labour Banks | |
Many thanks to everyone.