ITUC-CC/JILAF Seminar on Industrial Relations (IR) and Labour Policy in Cambodia
event date: August 9, 2022
~
August 10, 2022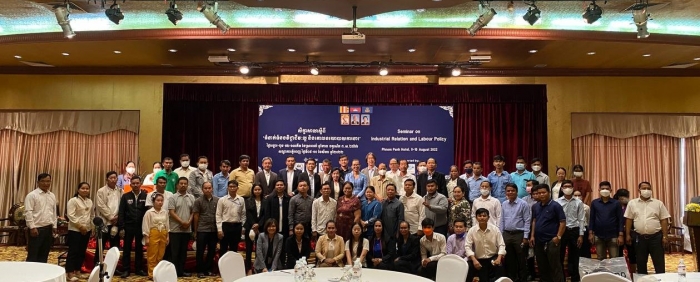 On August 9 and 10, the Japan International Labour Foundation (JILAF) and the Cambodia Council of theInternational Trade Union Confederation (ITUC-CC) held a Seminar on Industrial Relations and Labour Policy in Phnom Penh. A total of 64 people participated in this seminar.
Day 1 (August 9)
At the opening ceremony, speakers included 1) Mr. Sophorn (ILO); 2) Mr. Sophon of Cambodian Federation of Employers and Business Associations (CAMFEBA); 3) Chairman Ath Thorn of Cambodia Labour Confederation (CLC); 4) Chairman Rong Chuun of Cambodia Confederation of Unions (CCU); 5) Chairperson Vannary of Cambodian Confederation of Trade Unions (CCTU); 6) JILAF Deputy Director General Saito; 7) Minister of Labour and Vocational Training (MLVT) Dr. Chuon Momthol (former President of CCTU); and 8) Secretary H.E. Vannaroth (MLVT) (in order of address). There was consistent mention of the need for discussion rooted in mutual trust between labour and management, and the active promotion of social dialogue among government, labour and management.
Presenting examples of initiatives related to "Labour–management relations and labour policies," the CLC, CCU, and CCTU, which together comprise the ITUC-CC, declared that the role of labour unions must be considered in order to achieve 1) tripartite talks held between government, labour and management to minimize the impact of COVID-19; 2) cooperation among ITUC, GUF, and TUSSO in dealing with multinational companies; and 3) the "Cambodia Vision" (to become a middle-income country by 2030 and a developed/high-income country by 2050).
JILAF Deputy Director General Saito shared information on Japan's labour legislation and social security system, focusing on (1) relevant points of labour union law; (2) the labour dispute settlement system (collective and individual); and (3) an overview of Japan's social insurance system. Participants asked in-depth questions regarding (1) the role and structure of labour committees and labour tribunal systems in the dispute resolution system; (2) the relationship between the number of years of participation in the National Pension Plan (basic pension) and Employees' Pension Plan and the amount of benefits; (3) the conditions for social insurance coverage for informal workers, and so on. A high level of interest in the Japanese pension system was also evident, perhaps due to the pension system that was scheduled to be introduced in Cambodia in October 2022.
Next, regarding the roles and challenges of the Japanese labour movement, information was shared on (1) the historical process leading up to the establishment of constructive labour–management relations; (2) the characteristics of Japan's labour–management relations movement, etc.); (3) various present-day issues surrounding the labour movement in Japan, and so on.
Day 2 (August 10)
Accompanied by easy-to-understand images and videos, Mr. Nuon Rithy, a former ILO official, shared with participants the "soft skills" (leadership, communication skills, courtesy, integrity, problem-solving skills, judgment, cooperation, etc.) necessary for trade union officials to build constructive labour–management relations.
The participants were then divided into three groups (personnel of the three ITUC-CC organizations were shuffled) for group discussions on the themes of (1) the role of trade unions amid globalization; and (2) what trade unions should do to build better labour–management relations.
・Increasing the organization rate and listening to the opinions of union members
・Functioning as an intermediary between management and government
・Understanding the content of labour laws and regulations as labour union officials
・Establishing labour–management committees and holding regular discussions
The importance and necessity of these and other subjects were discussed.
JILAF Deputy Secretary General Saito stated that the significance of the existence of trade unions is being called into question at a time when globalization is underway and disparities are widening, and that he hoped that the social presence of trade unions in Cambodia would be enhanced by further strengthening cooperation among the national centers. Finally, CCTU Chairperson Vannary expressed her gratitude to all participants and JILAF, and the two-day seminar ended.
Photos of the Participants