event date: June 27, 2022
~
July 1, 2022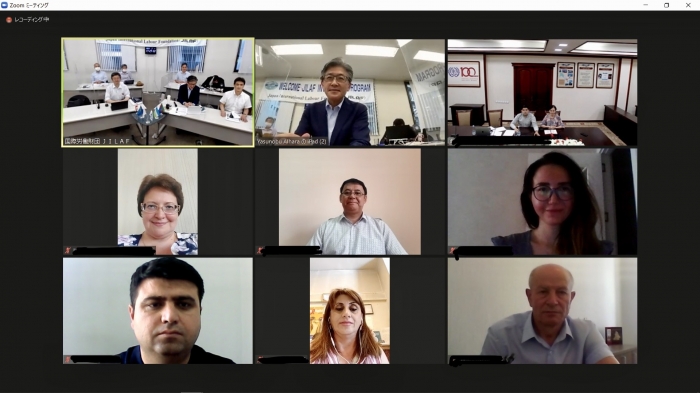 A program for the Eurasia Team was held online from June 27 to July 1.
The entire program was completed by a total of twelve participants (including five women) from four countries, which consisted of two participants from Azerbaijan (including one woman), four participants from Uzbekistan (including one woman), three participants from Kazakhstan (including one woman), and three participants from Georgia (including two women).
For the program, JILAF President Aihara held a live session titled "Social Issues in Modern Japan," in which he presented topics such as the population problem and dealing with digitalisation, and exchanged opinions with participants.
This proved to be an item of interest for each participant and a meaningful keynote session for the week-long program.
The main action plans that were proposed by participants are as follows.
1. Going forward, we would like to consider what kind of initiatives the national centre can take that will enable trade unions to contribute to society as a whole. (Uzbekistan)
2. We would like to go forward with establishing international safety and health standards, while referring to cases of various countries. (Azerbaijan)
3. To ensure that minimum wage is applied and various labour standards are implemented steadily, we would like seek action from relevant parties while referring to the case of Japan. (Kazakhstan)
4. Also, we would like to hold seminars within single unions and actively share the knowledge we have gained through the program. (Georgia)
List of Cooperating Organizations
| | | |
| --- | --- | --- |
| Ministry of Health, Labour and Welfare | JTUC-RENGO | The National Conference of the Association of Small Business Entrepreneurs |
| RENGO Tokyo | Foundation for Promoting Workers Welfare and Mutual Aid Insurance | |
Many thanks to everyone.