India: Report on Visit to a Bridge School in July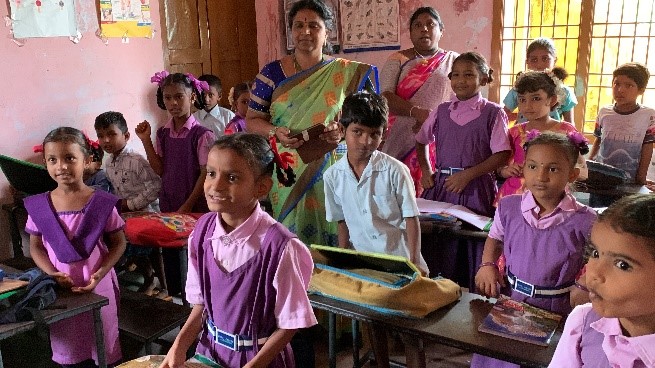 The International Labor Foundation (JILAF) visited a bridge school in Guntur, Andhra Pradesh, India. Such schools are operated in collaboration with the Indian National Trade Union Congress (INTUC).
 At this bridge school, approximately 60 students from grades 1 to 7 are currently divided into three classes: low, middle, and high. They learn Hindi, Telugu, English, arithmetic, science, and social studies. We also observed the lunch provided by the school.
*To eradicate child labor, bridge schools (non-formal schools) for the poorest children who are unable to receive even the minimum necessary education have been funded by donations from labor unions in Japan and operated in collaboration with the INTUC since 1999. After receiving a basic education, students are transferred to public schools (bridge for transferring to public schools), and parents and local communities become aware of the importance of education, with the aim being to end the negative cycle of child labor within the community.
Related organizations that contributed
Tokyo Electric Power Labor Union
Photos of the Participants