event date: June 19, 2023
~
July 5, 2023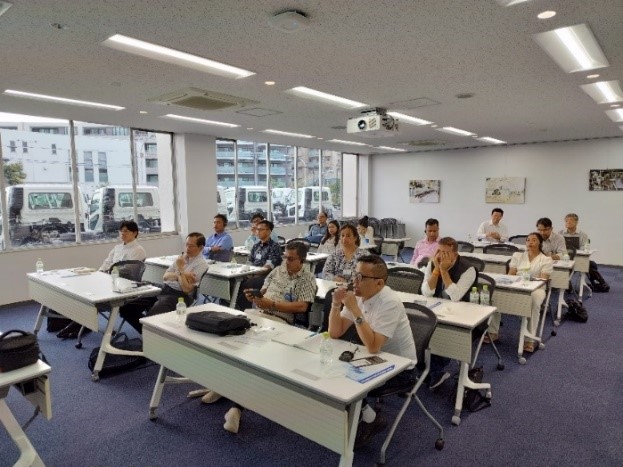 Programs were held from June 19 to June 21(online) and from June 28 to July 5(in Japan) for the Khmer-speaking unit and the Nepali-speaking unit.
 The entire program was completed by six participants (including two women) from Cambodia and six participants (including two women) from Nepal. In total, there were 12 participants (including four women) from two countries.
 In online sessions, participants heard lectures on "The History and Role of the Japanese Labor Movement and Current Issues" and "Labor Legislation and Social Security Systems That Support the Labor Movement."
 For this program in Japan, the Japanese Trade Union Confederation introduced and exchanged opinions on "activities related to spring wage negotiations," JILAF executives exchanged opinions on "the social issues that we are taking on," and the Foundation for Promoting Workers' Welfare on the "history and current status of worker mutual aid in Japan." During an industrial union and workplace visit, participants visited the Mitsubishi Fuso Labor Union and learned about constructive labor-management relations.
 During a regional federation collaboration session, participants visited RENGO Aichi and exchanged opinions on topics such as organizational expansion for small and medium-sized enterprises. They also visited and exchanged opinions at the Chubu Polytechnic Center, Hello Work Kasugai, and the Toyota Industries Labor Union, where they observed vocational training, employment support, and manufacturing sites.
 The primary action plans proposed by participants were as follows:
We want to share first-hand experiences from Japan and online knowledge to further develop human resources. We want to improve labor-management relations with employers through dialogue rather than confrontation. (Cambodia)
We were able to learn not only about Japan, but also about labor relations, social insurance, and mutual aid systems in Nepal. We will make efforts to enable formal and informal people to use social insurance. (Cambodia)
During our visits to industry and workplaces, we saw firsthand that labor-management relations were good and that productivity was improving. We would like to share this experience with our members and improve our own situation. (Nepal)
We will work to get more people into the social security system. (Nepal)
List of related organizations that cooperated in the program
Ministry of Health, Labour and Welfare
Japanese Trade Union Confederation (JTUC-RENGO)
Japanese Business Federation
Japan Productivity Center
Confederation of Japan Automobile Workers' Unions (JAW)
Mitsubishi Fuso Labor Union
RENGO Aichi
Chubu Polytechnic Center
Hello Work Kasugai
Toyota Industries Worker's Union
The Foundation for Promoting Workers' Welfare and Mutual Aid Insurance
Photos of the Participants