event date: May 22, 2023
~
June 9, 2023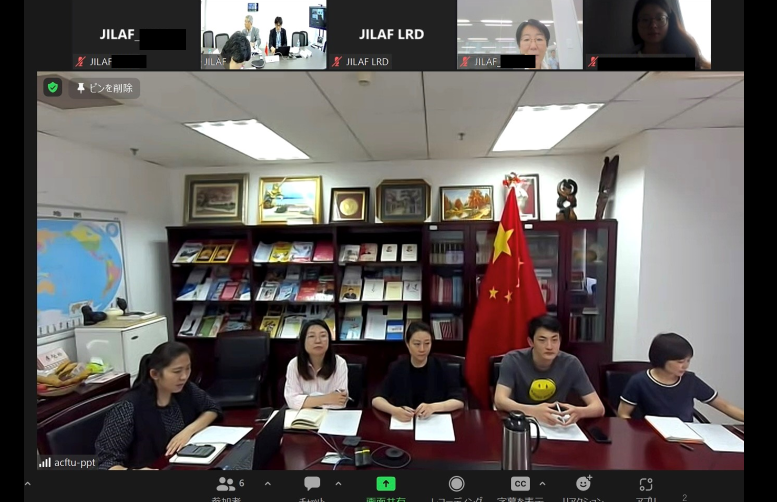 An online invitation program was held for the Myanmar-speaking unit from May 22 to May 26, and for the Chinese-speaking unit from June 5 to June 9.
Six participants from Myanmar (of whom three were women) completed the entire program from May 22 to May 26, and six participants from China (of whom five were women) completed the entire program from June 5 to June 9. In total, there was a team of twelve participants (of whom eight were women) from two countries.
At the meeting to hear about the labor situation in Myanmar, we received reports on the local situation after the military coup and the activities being conducted by each participant, and the meeting to hear about the labor situation in China was held for the purpose of exchanging information about the respective situations in Japan and China.
As the participants from Myanmar currently hold important positions in various industries, they approached the program with a desire to learn a lot from Japan in order to work towards stabilizing employment in Myanmar.
On the other hand, the participants from China reported on the political and economic situation as well as the labor market, and from the Japanese side, President Aihara gave a lecture titled "Social Issues We Will Challenge." It can be said that a meaningful exchange of information for both sides was conducted.
The main action plans proposed by participants are as follows.
(1) We would like to focus on training trade union leaders and strengthening the organization with a view
to the labor movement after democratization. (Myanmar)
(2) The number of workplaces that accept child labor has increased. Once democracy is restored, each factory will be organized and initiatives will be implemented to eradicate child labor. (Myanmar)
(3) The current situation where human rights are not guaranteed because of the military government is continuing. In addition, although the number of occupational accidents is increasing, social security is not ensured. We want to implement initiatives to improve occupational safety and health in the workplace. (Myanmar)
(4) Support is being provided to labor unions in Africa, but we are struggling with specific methods of support. We would like to implement initiatives with reference to JILAF's support activities (China).
(5) In the future, we would like to collect more information on the labor conditions and social and economic conditions in Japan, and make use of it in our activities, while monitoring the situation of the Chinese labor movement (China).
(6) We would like to refer to the initiatives to prevent labor-management disputes that are being faced in Japan under the new employment styles (China).