ITUC-BC/JILAF Seminar on Industrial Relations (IR) and Labour Policy in Bangladesh
event date: January 16, 2023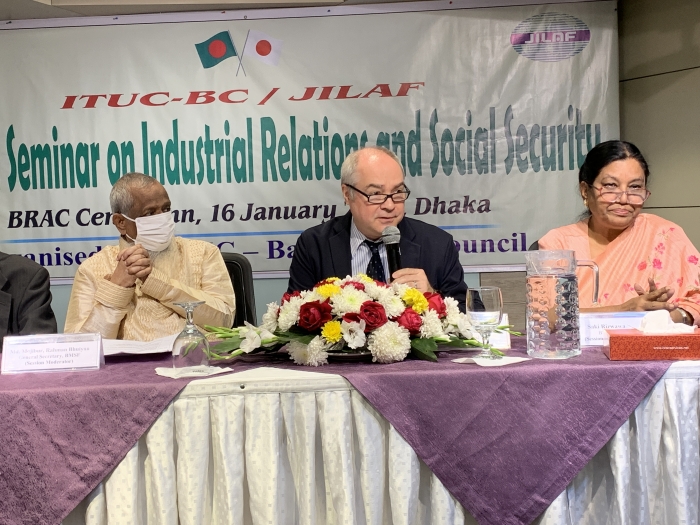 On January 16, the Japan International Labour Foundation (JILAF), together with the Bangladesh Council of the International Trade Union Confederation (ITUC-BC), held a seminar on industrial relations and labour policy in Dhaka, Bangladesh. The seminar was attended by a total of sixty five people, including the leaders of each member organisation.
At the beginning of the seminar, ITUC-BC Chairman Shar Muhammad Abu Zafar made opening remarks by thanking the participants, then highlighting the significance of being able to hold a face-to-face seminar once again after three years, and expressing his hope for the success of the seminar, in which there were going to be discussions about building constructive industrial relations post-COVID-19. Following this, Additional Secretary-General of the Bangladesh Employers Federation Mohammad Saidul Islam, JILAF Counselor Koji Kogure, and Country Director of the ILO Country Office for Bangladesh Tuomo Poutiainen, each gave their own opening remarks confirming the importance of constructive industrial relations.
In the seminar, Muhammod Shaheen, who is a professor of law at the University of Chittagong, and Ferdousi Begum, who is an assistant professor at the Department of Law of the American International University-Bangladesh, explained the current circumstances and issues concerning industrial relations in Bangladesh, such as the delay in the development of legal systems, the delay in collective efforts by the government, labour and management, the discriminatory treatment of trade unions and women, and the lack of a foundation for social dialogue. In addition, they also expressed that the future direction should be to strive to create a free and fair labour movement and to establish special stipulations for female workers.
Next, JILAF Counselor Koji Kogure explained that in Japan, trade unions are actively involved in policy discussions and implementation of the social security system, then gave a lecture on Japan's social security system, with a focus on an overview of the health insurance system.
Afterwards, the participants had group discussions where they confirmed matters such as (1) their acknowledgment of the importance of industrial relations and the overview of Japan's social security system, (2) their intention to promote social dialogue at all levels, (3) the necessity of cooperation between government, labour and management in building stable industrial relations, and (4) the intention of the ITUC-BC and the Bangladesh Employers Federation to work together to build constructive industrial relations.
At the end, JILAF Deputy Secretary General Toshihiro Saito closed the seminar by thanking the participants for their active participation, then expressing his hope for them to start building constructive industrial relations.
Photos of the Participants