event date: October 23, 2022
~
October 29, 2022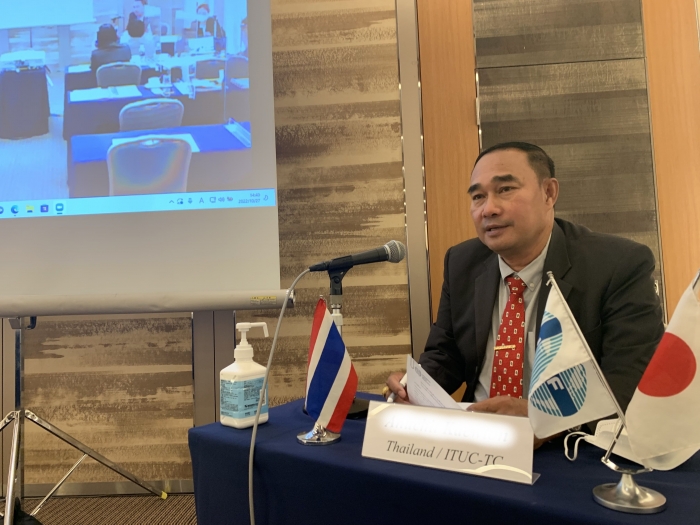 The Reinvitation Team visited to Japan from Sunday, October 23, to Saturday, October 29.
From October 23 to October 29, six participants from Thailand (including three women) who had previously participated in the invitation program were invited back to Japan.
The participants showed a positive attitude toward the program, actively asking questions of the lecturers in order to solve issues with the labour movement in their own country, comparing the latest labour situation in Japan with experiences they gained through the previous invitation program. They also reported on various initiatives they have been implementing in the field since their participation in the previous program.
With the team's focus on preventing unnecessary labour disputes, as well as the meeting to discuss the labour situation, lectures such as "The Significance and Role of the labour Relations Commission" by the Central Labour Relations Commission and "Mechanisms for Resolving Labour–Management Disputes" by Rengo Tokyo have helped foster union leaders who are committed to building constructive labour–management relations.
Also, at the meeting held as a webinar to discuss the labour situation, the invited participants reported on the latest labour situation in Thailand and efforts to prevent labour disputes, with about 20 people participating.
The participants deepened their understanding of labour–management disputes caused by misunderstandings on the part of management in state-run enterprises, labour–management disputes arising from unfair disciplinary actions in private industry, and other cases in which problems were resolved by support from trade unions.
The participants offered the following comments.
(1) Through workshops, I hope to raise awareness of Japan's positive labour–management relations through labour–management negotiations, the tripartite structure, and the mechanism for resolving labour–management disputes to workers in state-run enterprises.
(2) I hope to develop a training curriculum for building good labour–management relations at individual workplaces, using the knowledge and experiences I've gained in Japan as case studies.
(3) I would like to discuss with members of my own union about methods and techniques to build good relations with employers and to be viewed favorably by them.
(4) In order to pass on the valuable experience I have gained through the invitation program to the future as much as I can, I would like to report to young union leaders and provide the necessary support for training the next generation of leaders.
(5) I was able to learn not only about labour–management relations and the labour situation in Japan, but also about the Japanese mindset and cultural differences that affect the labour movement. I would like to share my knowledge and experience of labour–management negotiations, which I found most impressive during this program, within my organization and with my colleagues, as well as related organizations.
List of Cooperating Organizations
| | |
| --- | --- |
| Conference of labour–side members, National Labour Relations Council | Tokyo Local of the Japanese Trade Union Confederation(Rengo Tokyo) |
Many thanks to everyone.
Photos of the Participants